Custom Wainscoting Frequently Asked Questions
Raised, Recessed, Shaker Panel Wainscoting Overview
A.
Wainscoting is usually a decorative panel or tile that covers the lower section of a wall. Common types of wainscoting are Raised Panels, Recessed Panels, Shaker Panels and Beadboard panels. Ceramic Tile is techincally also considered a wainscoting but most people would not classify it as tile.
Q.
What is difference between Raised Recessed and Shake Panels
?
A.
All three have inner panels that are encased in between stiles and rails. Raised Panels have raised inner panels, Recessed Panels have flat inner panels and Shaker Panels also have flat inner panels with no fancy routs around the inner panels. Here are some pictures that show various wainscoting panel types.

A.
Beadboard has vertically beades that are usually uniformilly spaced on 2 to 8 inches apart. Traditionally beadboard is made from thin boards that have tounge and groove joints or lap joints. Beadbaord can also be purchase in thin sheets but the sheet is really classified as a paneling and is more of an inexpensive product.
Q.
What are Stiles and Rails
?
A.
Stiles are the vertical flat sections that separate the inner panels. The rails are horizontal and diagonal flat sections. See drawing below for details.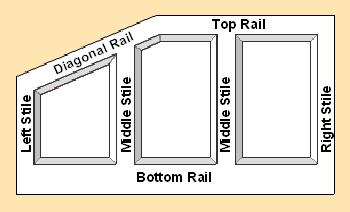 Q. What are the Rails and Stiles defaults?
A. The default stiles and rails widths and heights are in the following table. You can modify them as necessary in the design tool.



| | |
| --- | --- |
| Stile / Rail Type | Flat Width |
| Left Stile | 3.5" |
| Middle Stile | 3.5" |
| Right Stile | 3.5" |
| Top Rail | 4.5" |
| Bottom Rail | 7.5" |
Q.
How thick are the Wainscoting Panels?
A.
The panels are 5/8" thick ±0.010
Q.
What is the smallest wainscoting panel width?
A.
The smallest raised panel width is 5". If you have a section less than 5" we recommend using a blank panel. You need to reduce the right and left stile widths to 1/2" to achieve a 5" wide panel.
Q.
What is the smallest wainscoting panel height?
A.
The smallest raised panel height is 6". If you have a section less than 6" high we recommend using a blank panel. You need to reduce the top and bottom rails to achieve a 6" high panel.
Wainscoting Materials
Q.
What is MDF?
A.
MDF is Medium Density Fiber Board. We use a Premium Plus MDF for all our panels which is ideal for intricate machining.
There are 3 Types of MDF that we use for Wainscoting
Premium MDF for most interior projects
Moisture Resistant MDF for bathrooms and damp basements (Interior Use, Use PVC for Exterior Projects)
Fire Rated Class 1 / Class A MDF for Commerical Building Applications
Our Wainscoting America MDF Panels
+
comply with CPA-EPPS-3-08 and CCR 93120.2(a)(CARB Composite Wood ATCM Phase 1 Formaldehyde Emission Limits)
+
are approved for use in interior, non structural applications
+
Contain 100% Recycles/Recovered Wood Content
+
Conforms to formaldehyde emission requirements for MDF in ANSI A208.2
A.
PVC is a plastic (
Polyvinyl chloride)
We use PVC for curved staircases, curved walls and exterior wainscoting panels. Curved Panels and PVC Panels may have additional special service charges for the PVC material and kerfing complexities.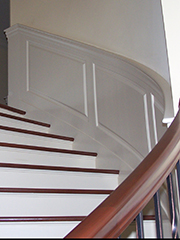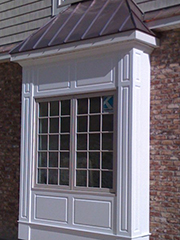 Wainscoting Measuring
Q.
What if I make a mistake measuring?
A.
Please measure twice and order once and please call us if you have questions so that you will minimize the chances of an error. Each item is custom made to your specifications so, unfortunately, we can not accept returns once a panel is custom made. Sometimes mistakes do happen and we will work with you to resolve your design issues.

Q.
Where on the wall should I take the measurements?
A.
It is best to take both a high and low wall measurement for each panel and use the longest of the two measurements when ordering so that you can compensate for walls that are slightly off.
Q.
How should I compensate the width measurement for an outside corner?
A.
You can use a butt joint or a miter joint for the outside corner. Our recommendation is the butt joint because most installers find it easier.
Butt Joint : You will need to add 5/8" to the panel that is going to overlap. You might also want to compensate the stile width by 5/8" so that the finished end stile will be the same on both panels.
Miter Joint 90° corner: You will need to add 5/8" to both panels and cut the 45 degree miter angle at time of installation.
Q.
How should I compensate the width measurement for an inside corner?
A.
T
ake your measurement so that one panel will go up against the opposing wall and the other panel will need to be shortened by the 5/8" panel thickness.
You may want to add 5/8" to the the end stile width of the panel going up against the opposing wall so that when installed both panel stiles will match.
Q.
Are long panels shipped in sections?

A.
Large Orders
that are more and 100 lbs - Panels will ship in sections up to 90". Based on the length and the number of panels the Web Designer will optimize the length of each section and determine which stile to locate shiplap joint(s).
A.
Small Orders
that are 100 lbs or less - Panels may ship in multiple sections so that standard FEDEX ground fees can be applied. If you need the panel to be in one piece up to 90" call our office to determine if there will be additional shipping charges to ship LTL freight instead of FedEx Ground.
Q.
I have electrical boxes and or vents on the wall and I am not sure if the Wainscoting rout will interfere?
A.
We usually recommend moving the electical boxes a couple of inches to the left or right to miss the wainscoting panel rout. However there are times when you just can not move the box or it is a heating vent . For those situations we recommend using the reverse molding which is supplied with every Raised Panel order. For new construction we recommend that you have your contractor adjust the outlets so that they are located in the center of the bottom rail. One to two feet of reverse profile molding is shipped with every Raised Panel order.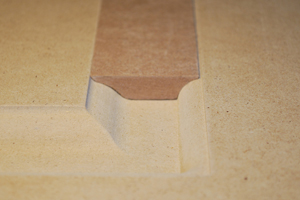 Wainscoting Installation
Q.
Do you have an Installation Video?

A.
Yes we have a video that shows our guys installing wainscoting and Pediment Heads and Pilasters. The video is a work in progress because it does not have any audio, but it will provide a lot of good insight into the wainscoting installation process. Click to Wainscoting America Installation Video.

Q.
Can I install Raised and Shaker Panel Wainscoting on a staircase?

A.
Yes our web designer has multiple configurations available for staircases and stairwells. We also have a How To Measure a Staircase page that provides step by step measuring instructions.
Wainscoting Shipping
Q.
Will my Wainscoting be shipped in one piece?
A.
Depending on the configuration and number of inner panels it may be required to fabricate the panels in two or three sections. If more than one section is required the joint(s) will be located in the center of a middle stile. We will biscuit cut the joint(s) and provide biscuits with the order. Joint(s) should have glue applied to the biscuits before joining panels together on the wall. A thin layer of wood fill should then be applied over the joints and sanded smooth prior to priming.
A.
The system will calculate the shipping if you
login
to your account. If you don't have an account you can
create an account
for US and Canadian addresses quickly.
Q.
What is the standard lead time?
A.
Typically we will fabricate and ship your order within 5 business days. Occasionally orders will spike and the lead time will increase to 7+ days.
Q.
How long will my shipment take?
A.
We will ship your order standard freight from our Wolcott, Connecticut facility. Depending on your proximity to our business the shipping time will be 2 to 7 business days.
Q.
How will my order be shipped?
A.
The size and weight of the order will determine how it will ship. Small orders will ship either USPS or Fed Ex Ground. Large or heavy orders will mostly likely ship with XPO (Con-Way Freight) and are curb side delivery for residential addresses. Curb side delivery is where the freight carrier will pull the truck up to the curb and the customer will be required to move them from the curb to the house. The wainscoting panels will be boxed and on a pallet. The freight carrier will unstrap the pallet and hand the boxes to the customer.
Q. Do you ship to Canada?
A.
Yes, You can create an account for US and Canadian addresses. Please call to coordinate Canadian shipping arrangements (203) 879-1278.
Q. What Lengths do moldings ship in?
A.
All our moldings and beadboard ship in lengths up to 94". An 8FT molding is considered 94" long. This 94" limit is based on FedEx and Freight Surcharges of $257 for box lengths 96" or greater.
Wainscoting Painting
Q.
Do I need to prime the surface before painting?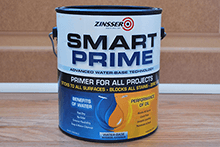 Q. Is Oil Paint Better Than Latex Paint for Trim and Wainscoting?

A. Old timers will tell you that Oil Paints is better than Waterborne Paints because it is more durable and will lay better (less brush lines). Paint Technology has changes dramtically in recent years and we believe the benefits of Waterborne Alkyd Paints out weigh the benefits of Oil Paints and we recommend using them. There are 3 cons to Oil Paints - they yellow over time, have high VOCs (Smell), and the clean up requires harsh chemicals. A good quality Latex Trim Paint will not yellow, is durable and will self level giving a great apperance that will last.
Q. What Waterborne Alkyd Paint Do you Recommend?
A.
There are a number of very good trim paints on the market. We are always comparing paints to find the best one. Our favorite at this time is
Advance
Waterborne Interior Alkyd by Benjamin Moore. We like this paint because it covers well, does not drag and levels very well (minimizes brush marks). You can go with a satin or a semi-gloss paint sheen. The satin sheen will be more forgiving and will hide most imperfections from your nail heads and seams.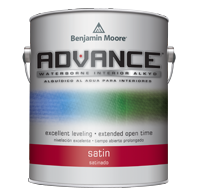 Q. What Oil Paint Do you Recommend?

A.
There are a number of good quality oil paints on the market. Our favorite at this time is
a high quality alkyd (oil) based or lacquer-based paint. Benjamin Moore's Satin Impervo Finish Enamel Z235 is a premium quality, low lustre, alkyd enamel that is featured in our Priming & Painting Video.
Q. Do I need to thin out the paint?
Q. Do you recommend Semi-Gloss over Satin Paint Sheen?
A. This really is a personal preference. If you are going to spray paint the panels Semi-Gloss is a good choice. If you are going to brush paint the panels then we recommend a Satin Finish. The Semi-Gloss Finish will show imperfections such as filled nail holes and seams if they where not prepped well but the Satin Finish will be more forgiving.
Wainscoting America Miscellaneous Questions
Q.
How do I contact Wainscoting America with design and order questions?
A.
Click on the
Contact Us
to go to the Contact Us page where you will have an option to call, fax or email us with your questions. If you have attachements you can email them to
info@WainscotingAmerica.com
Q.
How should I store the Wainscot Panels, Pediment Heads & Pilasters and Top Cap if my room is not ready for installation?
A.
It is critical to store in a dry and low humidity location. Moisture and water can cause damage and will void our workmanship warranty.
Q.
Is there a warranty on the wainscot and pediment head / pilasters?
A.
We warranty our Wainscoting America panels against defects in material and workmanship for 3 years from date of shipment. Defects caused by improper storage, improper installation or improper finishing will not be covered by this warranty.