DIY... How To Measure Staircase For Custom Wainscoting
Measuring wainscoting for your staircase

We have simplified Staircase Wainscoting significantly with our online design tool and that is why we are able to offer staircase panels at a fraction of the prices that our competitors charge. $45.00 / foot and no hidden design fees.

1) Select the desired staircase shape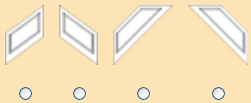 Choose the wainscoting shape that applies to your staircase. If your staircase does not match one of these common shapes give us a call and we can custom design a wainscoting panel.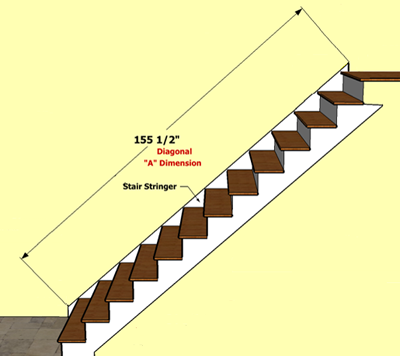 2) Measure the stringer length - Dimension "A"
The Staircase stringer length is the diagonal length of the staircase.
Note: Some stringers extend horizontally at the top of the stringer for a couple of inches. The diagonal length should not include the horizontal section.
3) Determine the Staircase Wainscoting Height - Dimension "B"
The height of the staircase panel need to be coordinated with the height of the first floor wainscoting panels and the vertical height of the stringer at the bottom of the staircase (near the first step). In the below picture the stringer goes vertical 2 1/2" before starting the diagonal angle. The Height of the staircase panel should be 2 1/2" less than the height of the first floor wainscoting panel.

Example:
First Floor Wainscoting Height 34 1/2"
Vertical Stringer Height 2 1/2"
Staircase Wainscoting Height = 34 1/2" - 2 1/2" = 32"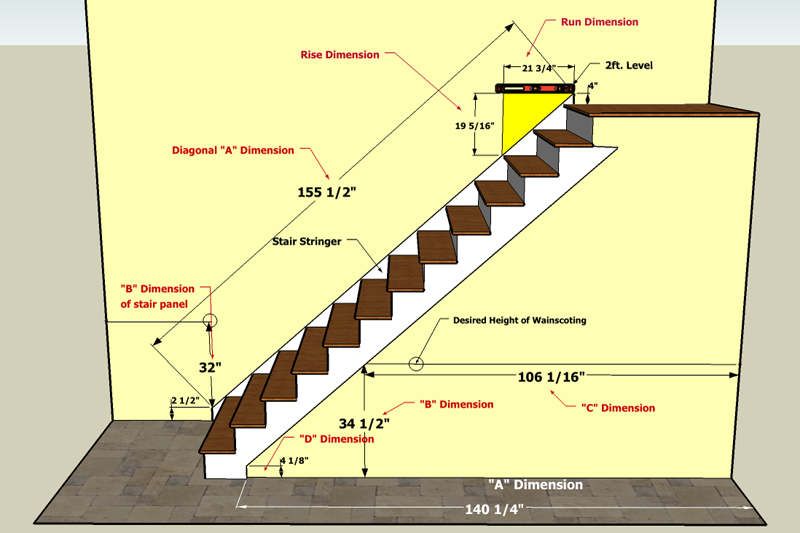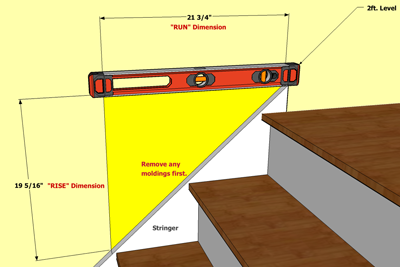 4) Measure the Rise and Run of the Stringer
Place one end of a 2 foot level on the stringer and draw a horizontal line on the sheet rock.


Go to the end of line and hold the level vertical (plumb) and draw a vertical line back to the stringer.

Measure the lengths from the intersections back to the stringer. The vertical line length is the "Rise" and the horizontal line length is the "Run"