Customers Express Their Experiences & Provide Wonderful Wainscoting Pictures
Excellent Customer Reviews
---
Wainscoting America Customer Project Ideas and Testimonials
Wainscoting is a passion that we share with our customers!
We have dedicated this page to our customers creativity and we hope you find their work inspirational.

With our state of the art technology you will now have the capability to implement the extraordinary... staircases, curved wall wainscoting and arched wainscoting are now all within your reach!
Classic Recessed Stacked Wainscoting - Living Room - Brooklyn, NY


I did it myself, and it looks great! I measured original wainscoting in my older house and recreated an updated version of it on WA's website for a newly renovated room. I was worried that I'd make a mistake (I'm not an architect or designer), but I followed the instructions on the website and after a lot of measure-twice, type-once, I submitted my order. The pieces came on time (the shipping company was supposed to call me with a delivery window, but just showed up, but that's not WA's fault) and they look great installed and painted. They gave character and warmth to a new construction room so it blended better with the rest of the old house.
Kay, Brooklyn, New York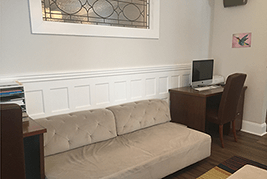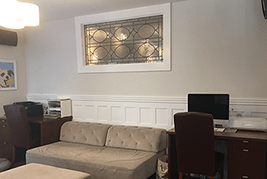 Beaded Raised Panel Wainscoting - Living Room, Foyer, & Dining Room - Bellmore, NY

I just wanted to thank you again for helping with all the measurements and designing the project out with us. Your wainscoting was absolutely amazing and we couldn't be happier with the results. Our friends and family have not stopped complimenting the house and have asked several time who did this for us. We will be sure to recommend Wainscoting America in the future!


Sunny, Bellmore, New York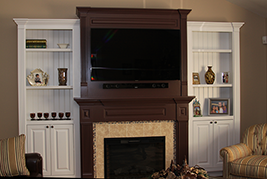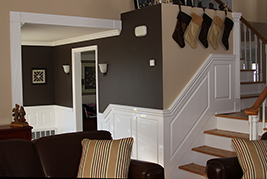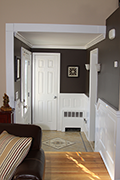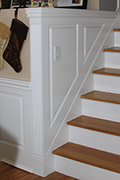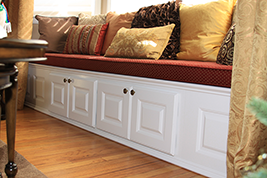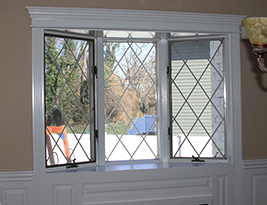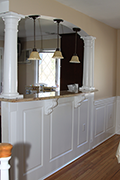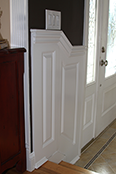 Classic Raised Panel Wainscoting - Bar and Window Seat - North Brunswick, NJ

Project 1 - Thanks for your help. Your wainscoting came in exactly as ordered, the packing weighed more than the product. I will definitely recommend WainscotingAmerica.com to my freinds.
Project 2 - Your product was so good and the compliments we received made me look like I was a carpenter, that my wife and I decided to redo the window seat by our pool table to match the bar. Another easy project that makes such a difference. Again the Wainscoting America staff was a great help in the planning and ordering. I would definitely recommend your product to anyone wanting an easy makeover that looks professional but can be done by the normal DIY guy.
Regards,
John North Brunswick, New Jersey

Classic Raised Panel Wainscoting - Foyer - Raleigh, NC

Two and a half days by myself - 2 coats of Sherwin Williams Pro Classic Paint.

Patrick, Raleigh, North Carolina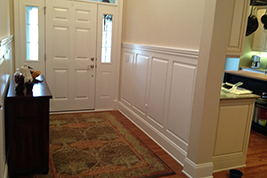 Beaded Raised Panel Wainscoting - Dining Room, Foyer & Staircase - Closter, NJ

Its been about a year since I was first introduced to WainscotingAmerica.com. I had a large house renovation project so I took a ride to Wolcott to get a little hands on education. I met a team of professionals that ultimately made this project a banner success. I have felt since that first meeting that I have met new business partners that share my professional courtesy and expedition of service. The Wainscoting America team went way above and beyond with my second project which was another banner success. Scott, Deb & Bob... Partners are difficult to find, friends even harder. I believe I have found both.

Thank you all,

Anthony Piermont, New York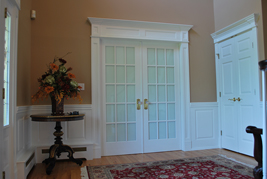 Faux Painted Classic Raised Panel Wainscoting - Living Room - Fairbanks, AK

I want to thank you for the great support and advice on my Wainscoting paneling project. The results, you can see below, came out well and we are delighted with the new look it gives the living room. As you can see I painted the wainscoting panels different than your more traditional applications but we enjoy color and texture and the wainscoting panels were a great place to express it. The time involved in the faux painting was worth the results.
Thanks again,
Greg, Fairbanks Alasha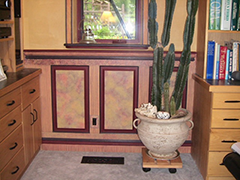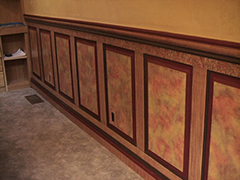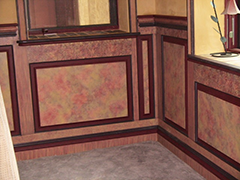 Beaded Recessed Panel Wainscoting - Beach House - Westerly, RI

"Being a high end custom home builder, I have set very high standards for my sub-contractors and vendors. As usual, Wainscoting America has exceeded my every expectation. After boasting to my customers about the extraordinary interior millwork in my beach home, they are actually willing to take the 1 1/2 hour drive to get wainscoting ideas for their new homes.

Wainscoting America never disappoints and I could not be happier!
Eric, Strachan Custom Homes LLC, Watertown, Connecticut

Beaded Raised Panel Wainscoting - TV Studio - Corinth, ME

Thanks for being so easy to communicate with and for the great service you have provided... I will use you again!
D. D. Dyer Contracting, Charleston, Maine (207) 285-7788

Classic Raised Panel Wainscoting - Kitchen - Shippenville, PA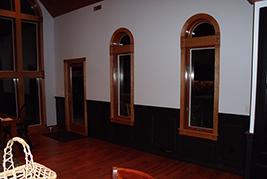 Here is a picture of one of the walls we did in black wainscoting. I will get you a better picture a little later that is closer–up.
Bob Shippenville, Pennsylvania

Raised Panel Wainscoting - Family Room - West Babylon Long Island, NY



Finally....FINALLY finished my Den project in time for our annual Thanksgiving Family gathering. The wainscoting itself was very well designed and the installation was very easy. Must say it came out excellent and everyone couldn't stop complementing it. Still have some finishing work to be done but for the most part my wife is happy..lol. Customer service is outstanding. I had a little issue and it was handled promptly and I couldn't be happier. I Highly recommend Wainscoting America to anyone that wants wainscoting.

Appreciated
Bob West Babylon, Long Island, New York
Raised Panel Wainscoting - Foyer - Northville, MI



I couldn't be more impressed and pleased with your product and your process. Thanks for designing the components for my project and producing everything so quickly. It all fit together perfectly. I hope to have the opportunity to do more business with you.
Thanks again,
John, Muir Building Northville Michigan

Raised Panel Wainscoting - Bathroom - Stamford, CT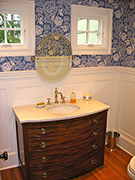 As you can see, the product worked out great! With your help and suggestions we managed to get the final height to 51 inches and the client couldn't be happier. She tells all her friends and family that she loves the bath and I tell all the contractors I love the product.
Look forward to working with you guys again.
Ted Sihpol, Renaissance Partners, LLC Stamford, Connecticut

Raised Panel Wainscoting - Bedroom - Los Ang

eles, CA



We finished our bedroom project and it turned out to be a big success. We think that the combination of the bedroom / bathroom featuring the consistent wainscoting design has added a lot of value to our home and it looks very luxurious. Thanks again to the guys at Wainscoting America for their help and guidance through the job.
Brian Los Angeles, California
Raised Panel Wainscoting - Kitchen - Chester Field, MO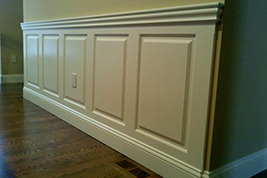 The Painters have finished now, and we could not be happier. Your help with the whole thing was fabulous. My decorator has your contact info. and I hope she can use you in the futrue. I will send a finished photo for your testimonials.

Again... Thank You!

Becky Chester Field, Missouri
Raised Panel Wainscoting - Mantel - Column - Built-in Cabinets - Binghamton, NY



The basement looks great! Thanks for the bookshelves, mantel and column. The fit was perfect and the quality is outstanding. The result would not have been the same without your help.
Thanks, Bob Binghamton, New York
Raised Pa

nel Wa

inscoting -

Living Room -

Northville, MI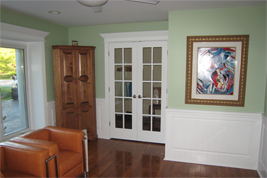 My wife and I could not be more pleased with our living room. I've never taken on a project this large, but following the instructions on your web site made this a very simple makeover! Thank you for everything...it's very likely we'll be ordering again one day -- if not for this house, perhaps for our next house... wherever and whenever that is!!!
Best regards,
Ken Northville, Michigan

Raised Panel Wainscoting - Bathroom - Los Angeles, CA
This was my first time at installing Wainscoting. It is quite a big bathroom and no small job especially the backsplash and areas around the vanity, but the guys at Wainscoting America were with me all the way.

During the design process I was in touch with them numerous times by email and phone and found that no problem was too small and the response was immediate.

The project turned out to be just great and it was not as difficult as I thought it might be.

My wife is so pleased with the outcome that I am now working on a design that will continue the same theme through into the en suite master bedroom. I am pleased to be getting the same level of help and advice.

It's a rare quality to find in a modern day business and the help and genuine interest in my project was then, and is now very much appreciated.

Give it a shot, you will love the outcome.

Brian Los Angeles, California

Raised Panel Wainscoting - Stairway - Garden City Long Island, NY

This order worked out great for me--by that I mean my wife was very happy with the end-results! Thanks for your help and for calling me to adjust measurements, your input helped to give my stairway a very professional look. I followed the paint directions to the letter and could not believe the resulting finish. The extra effort required to apply the oil-based Benjamin Moore's Satin Impervo was well worth it.
Mike Garden City, Long Island, New York

Raised Panel Wainscoting - Jacuzzi Tub - Louisville, KY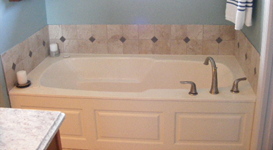 Your wainscoting was the perfect fit for the replacement piece to our Jacuzzi tub surround. We were looking for something to add some "pizzazz and it worked beautifully. The web site software was very user friendly and we had our product within 3-4 days from placing the order. Great service!
Thanks, Sue Louisville, Kentucky

Raised Panel Wainscoting - Master Bedroom - Hingham, MA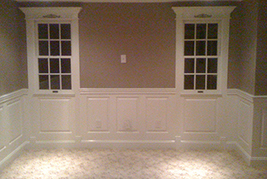 Things went very well yesterday! My guys moved about 6 outlets, and we still completed the installation in 8 hours. Your product looks great and adds tremendously to our master bedroom. The ease of installation of your proudct , and the impact your product has to beautify the room exceeded my expectations. Looking forward to doing business with you again.
Sincerely, Glenn Hingham, Massachusetts
Raised Panel Wainscoting - Stairway, Hallway, Foyer - Kenosha, WI

I wanted to thank you for the attention to detail and delivery of a really great product line. Our home is transformed! What a difference your product had made.
Warmest Regards, Bill Kenosha, Wisconsin