Customers Express Their Experiences & Provide Wonderful Dining Room Pictures
Dining Room Wainscoting Testimonials
Beaded Raised Panel Wainscoting - Cameron Park, California

"Thank you for all your help during our dining room renovation. You were alsways willing to answer all of my questions and as you can see the room turned out beautiful! Couldn't have done it without your advice and great product!"

Mark Cameron Park, CA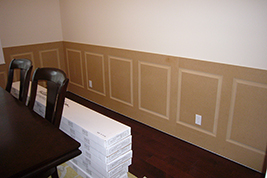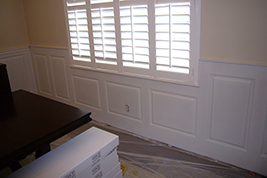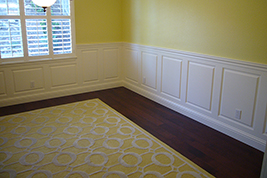 Classic Raised Panel Wainscoting - Stamford, Connecticut

"Here are the pictures of the finished job. It looks great. Beyond my expectations. Once finished you have no idea it is MDF. Thank you for a great job."

Michael Stamford, CT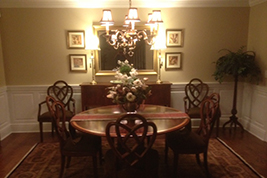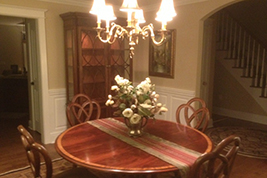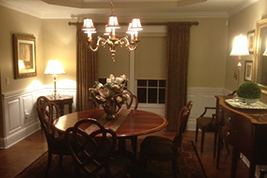 Classic Raised Panel Wainscoting - Townhouse Dining Room - Fairfax, VA

"My Dining Room and Living Room look so much better. I'm very happy with the results that I was able to achieve with the help of WainscotingAmerica.com. Thanks so much for everything."

Claire Fairfax, Virginia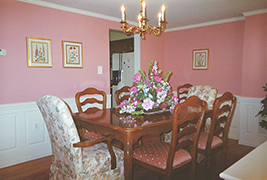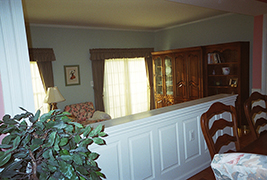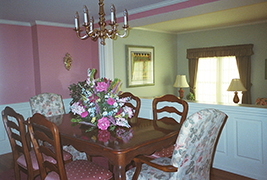 Classic Raised Panel Wainscoting - Dining Room - Farmington, NY

"Our experience with Wainscoting America was excellent. We could not have asked for better customer service, quality or attention to detail. Delviery came when promised. All the panels fit perfectly according to the measurements we gave them which made installation almost effortless. This company exceeded our expectations in every way and we would hightly recommend them."

Evan and Laurie Farmington, New York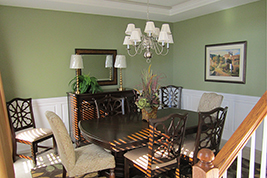 Beaded Raised Panel Wainscoting - Dining Room - Blauvelt, NY

"Installation is complete. I cannot believe how nice it looks. We could not be happier. Had to move 2 outlets and deal with a couple of areas where sheetrock was curved, but on the whole everythink went in without issue. Thank you for all of your assistance. I have attached a couple pictures for you to see."

Thanks,
Dan Blauvelt, New York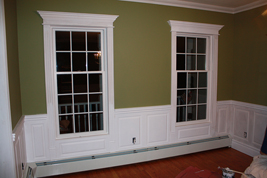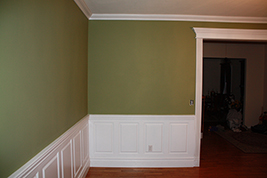 Beaded Recessed Wainscoting - Dining Room - Newark, DE

"You did a great job with the special stile above the air duct. Everything came out great. Enclosed are some photos. We will be sure to recommend your company to all our friends. It was a pleasure working with you. Your product is far superior to any other we have seen."

Thank you so much,
Julie & Doug, Newar Delaware
Beaded Raised Panel Wainscoting - Dining Room - Commack, NY

"I figured I would see how the first panel looked on the wall at around 2 PM this afternoon. By 6 PM I had the entire room up. I still have to do the top cap and the base molding but all the wall panels are up! Many sections needed no tweaking and in many cases they fit so nicely they practically didn't need to be nailed. The quality of the MDF helped a lot as well. It was easy to cut, drill and tap into tight spots".
Thanks for your help in planning this out and for having such a great product,
James, Commack, New York

Beaded Raised Panel Wainscoting - Dining Room - Oakdale Long Island, NY

"Our experience with Wainscoting America was absolutely wonderful! The product came on time and was beautiful and easy to work with. The dimensions were dead on and the installer had no problems putting it up. One panel arrived damaged, however, it was due to the delivery company and not a fault of Wainscoting America. When we called to let them know about the damaged piece, they sent a new one in less than a week with no problem at all. We highly recommend Wainscoting America for their product and for their integrity".

Dawn & Mike Oakdale, New York
Classic Raised Panel Wainscoting - Dining Room - Glen Head Long Island, NY

"Thank you again for helping us make this happen. I have referred Wainscoting America to our friends who are very interested."

Scott, Glen Head Long Island, New York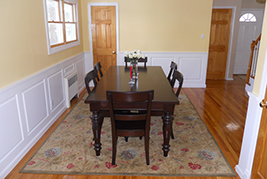 Raised Panel Wainscoting - Dining Room - Fairfield, NJ



"Gentlemen, The wainscoting is installed, painted and looks absolutely fabulous! It was actually as easy as the website made it seem. Loved the system... will be considering it for my living room and foyer."
Thanks guys!
Mike Fairfield, New Jersey
Raised Panel Wainscoting - Dining Room - Kirkwood, MO

"A huge Thanks to Wainscoting America!! The dinning room wainscoting looks fantastic and we couldn't be happier. The wainscoting was delivered in well padded cardboard boxes, it was easy to prep, easy to paint, and really easy to install. The online faq answered most of my questions and when I needed help the support was fantastic. Great help when doing my initial ordering, they were very intuitive and knew exactly what I was trying to accomplish. They also provided me with a bunch of good advice for installation and preparation. Word of mouth is the best advertising and I have been recommending your product to everyone."

Thanks again!! Tom Kirkwood, Missouri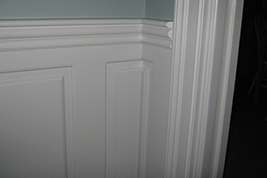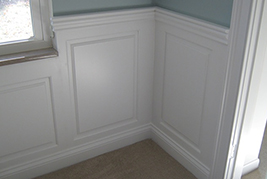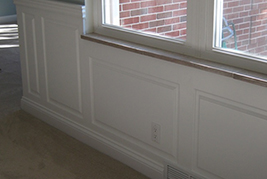 Raised Panel Wainscoting - Dining Room - Summerfield, NC
Dear Wainscoting America,

"I have been designing and installing high end kitchens and moldings for 18 years. In the past I always had to wait weeks on my local cabinet companies to build my requested items. Even though I was spending upwards of 100K plus per job with some of these local companies, they were always behind and put me off for weeks with many excuses. Since I found WainscotingAmerica.com I have my products in the same week I order! I no longer have to hear long excuses about reasons for delays, ect. I only wish I had found WainscotingAmerica.com years ago. I now have happier clients, get the job done much faster and my business portfolio looks better than ever! I would highly suggest this company and their very knowledgeable and friendly staff to anyone."
John, Summerfield, North Carolina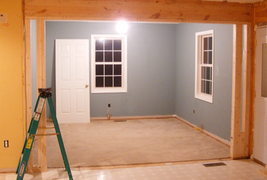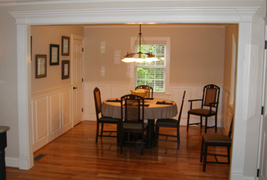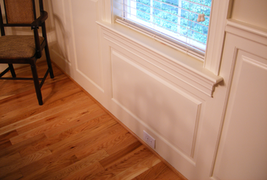 Raised Panel Wainscoting - Dining room - Macomb, MI

"Just wanted to drop a quick note to say thanks for all the help in designing the wainscoting for our home. Installation was a snap. With some small trims and shims to make up for the walls that aren't square it looks like a professional installation. The seams are invisible!
The room used to feel dark and closed off. Now it feels elegant and homey. Everyone just enjoys sitting in it now.
I will highly recommend WainscotingAmerica.com to all my friends and neighbors."
Bill Macomb, Michigan