Raised, Recessed, Shaker Panel Wainscoting Overview
A.
Wainscoting is usually a decorative panel or tile that covers the lower section of a wall. Common types of wainscoting are Raised Panels, Recessed Panels, Shaker Panels and Beadboard panels. Ceramic Tile is techincally also considered a wainscoting but most people would not classify it as tile.
Q.
What is difference between Raised Recessed and Shake Panels
?
A.
All three have inner panels that are encased in between stiles and rails. Raised Panels have raised inner panels, Recessed Panels have flat inner panels and Shaker Panels also have flat inner panels with no fancy routs around the inner panels. Here are some pictures that show various wainscoting panel types.

A.
Beadboard has vertically beades that are usually uniformilly spaced on 2 to 8 inches apart. Traditionally beadboard is made from thin boards that have tounge and groove joints or lap joints. Beadbaord can also be purchase in thin sheets but the sheet is really classified as a paneling and is more of an inexpensive product.
Q.
What are Stiles and Rails
?
A.
Stiles are the vertical flat sections that separate the inner panels. The rails are horizontal and diagonal flat sections. See drawing below for details.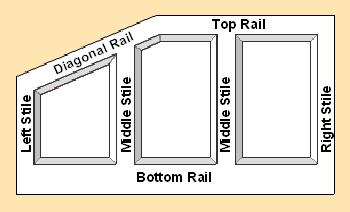 Q. What are the Rails and Stiles defaults?
A. The default stiles and rails widths and heights are in the following table. You can modify them as necessary in the design tool.



| | |
| --- | --- |
| Stile / Rail Type | Flat Width |
| Left Stile | 3.5" |
| Middle Stile | 3.5" |
| Right Stile | 3.5" |
| Top Rail | 4.5" |
| Bottom Rail | 7.5" |
Q.
How thick are the Wainscoting Panels?
A.
The panels are 5/8" thick ±0.010