Customers Express Their Experiences & Provide Wonderful Staircase Pictures
Staircase Testimonials
Beaded Raised Panel Wainscoting - Staircase - Seattle Washington


This is the only way to purchase wainscoting for any project whether new or old construction. Installing floor to ceiling raised panel wainscoting in a 110 year old stairway from a kit would be impossible. Without the dedication to perfection of the Wainscoting America staff, the result would have set a new project record for caulking and molding.
We are inundated by compliments from everyone. Thank you again for your dedication and customer service.
Roger Seattle, WA
Raised Panel Wainscoting - Staircase - Foyer - Manalapan, New Jersey




Thanks for the help and great service.
Irving Accent Contracting Inc. Manalapan, NJ
Classic Raised Panel Wainscoting - Staircase - Foyer - Neptune, New Jersey




"Here are a few pictures of the wainscoting. The measuremetns were perfect, everything fit like a glove! I am really happy with the way it turned out. Thanks for all of your help and advise, you make a great product"!


Tina Neptune, NJ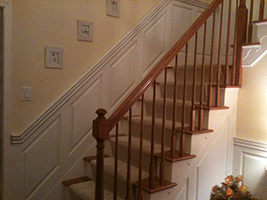 Raised Panel Wainscoting - Staircase - Mohegan Lake, New York


Thanks for all of the help. I installed all of the panels and they look great. I will send you finished wainscoting pictures soon.


Ed Mohegan Lake, NY
Raised Panel Wainscoting - Staircase - Los Angeles, California



We finally finished our project and are very happy with the final outcome. Thanks so much for your assistance with our staircase.
Tony Los Angeles, CA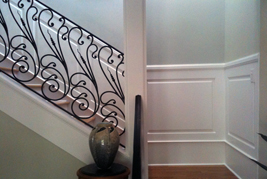 Raised Panel Wainscoting - Stairway - Garden City Long Island, New Y

ork

This order worked out great for me--by that I mean my wife was very happy with the end-results! Thanks for your help and for calling me to adjust measurements, your input helped to give my stairway a very professional look. I followed the paint directions to the letter and could not believe the resulting finish. The extra effort required to apply the oil-based Benjamin Moore's Satin Impervo was well worth it.
Mike Garden City, Long Island, NY

Raised Panel Wainscoting - Stairway, Hallway, Foyer - Kenosha, Wisconsin

I wanted to thank you for the attention to detail and delivery of a really great product line. Our home is transformed! What a difference your product had made.
Warmest Regards, Bill Kenosha, WI